Achieving Business Growth in 2023: Leveraging ERP and Digital Transformation
53% of businesses state that implementing ERPs and other automation systems are a priority but implementing these systems is a massive effort.
Building an enterprise that can respond quickly and intelligently to real-time requests requires agility across operations. For many, the operational backbone is the enterprise resource planning (ERP) system of a company. The ERP system should connect all operations, including sales, customer management, inventory and finance. Many companies do not have modern ERP systems in place, and have not undergone digital transformation. Benefits of integrating ecommerce with ERP software include optimal inventory management, effective customer relationship management (CRM), and integrated accounting and invoicing.
It is crucial that transitions to new platforms be planned and executed properly, as such changes to nimble platforms can be slowed down due to costly delays. According to FinancesOnline.com statistics, 53% of businesses state that implementing ERPs and other automation systems are a priority. Implementing these systems is a massive effort, and is slowed down tremendously without the help of trained management consultants. Even if your company has teams of skilled technical employees, you will still likely encounter a rugged transition that can take up to 12 months due to the multiple phases required. This is especially true for larger companies with several locations. ERP is especially going to be important for companies in North America, as that market holds the largest share of the global market. This means your company's competitor is likely implementing the latest ERP solutions, or has already done so.
System complexities and implementation costs pose major challenges to successful ERP implementation, especially as existing legacy systems need to be tightly integrated with new ones. Due to limited resources and manpower, few organizations are able to rely solely on their internal team for implementation.  The longer a company relies on their existing systems that use old technologies, the more they can expect high error rates and long turnaround times. In addition, many legacy applications may not be compatible with newer systems or may require custom integration efforts. With most existing legacy systems being on-premises, integrating these systems with new cloud-based systems might pose a challenge to the adoption of digital process automation solutions and services.
Once COVID-19 began to disrupt the typical business day, businesses began fueling growth through digital transformation.  These changes enable enterprises to take advantage of technologies that lead to improvements in automate processes, customer experiences, and help employees become more productive. Key aspects of digital transformation include media, platforms, devices, technology and data. Using digital transformation to move further into e-commerce, cloud, and CRM is one of the priorities a business needs to have.  When a company digitizes its products, it is able to access new markets and customer segments it could not access before. Digital transformation enables companies to use the latest technology to unlock value by collecting, analyzing, and sharing real-time data with the whole company. Analysis of this data leads to changes being implemented and adjustments to operations, such as the revamping of fulfilment processes, pricing structures, and logistics.
As part of digital transformation and ERP implementations, many tax offices in European states are transforming operations and making e-ledgers, e-invoicing and e-tax declarations mandatory. ERPs provide the capability of integration for these State agencies for automatic tax filings, and to help consolidate all e-invoices with the related vendor/customer.  Banking is also integrated, so that a user can reconcile accounts and generate payment instructions with ease.
How NMS Can Help
NMS consultants can provide solutions for your company by providing the crucial manpower and resources needed for successful ERP and digital transformation implementations. Digital transformation involves much more than updating and optimizing networks, hardware and software. Transformation efforts hinge on workplace culture, and a workforce with the skills and know-how to manage new systems. According to an IBM Institute for Business Value (IBV) study, only 41% of CEOs that were surveyed said that their companies have the people, skills and resources required to execute such business strategies. The NMS Digital Transformation teams address this issue. Our support includes the training of your in-house technicians for the skills that are critical to successful digital transformation. These skills will be needed to adapt to the new ERP systems and transformation protocols. Some of the initial steps we will take include identifying your digital transformation goals, performing a situation analysis and performance review, and presenting solutions that will meet your operational technology requirements. Our solutions will identify methods to:
Improve the user experience

Increase customer retention

Increase workforce productivity and efficiency

Reduce operational costs

Reduce complexity and redundancy in business operations

Gain insight and control over digital assets

Identify opportunities for improvement and current limitations
About the Author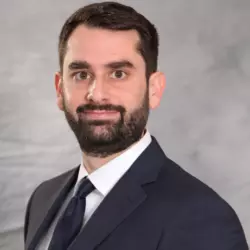 Mr. Mansourian has a 12-year track record as both a management consultant and investment banker, advising clients on valuation, capital markets, structured financing, mergers, acquisitions and divestitures and general corporate strategy. Mr. Mansourian served as Vice President while at NMS Capital Advisors, when the company achieved cumulative sales growth of over 5,100% with annual compounded sales growth in excess of 120% from 2012 to 2017. With over $5 billion in completed transactions, the investment bank consistently ranked among the Top 10 investment banks by the Los Angeles Business Journal. Mr. Mansourian holds an MBA from USC's Marshall School of Business, a Bachelor's Degree from UCLA, and the CIPP/US certificate from IAPP.