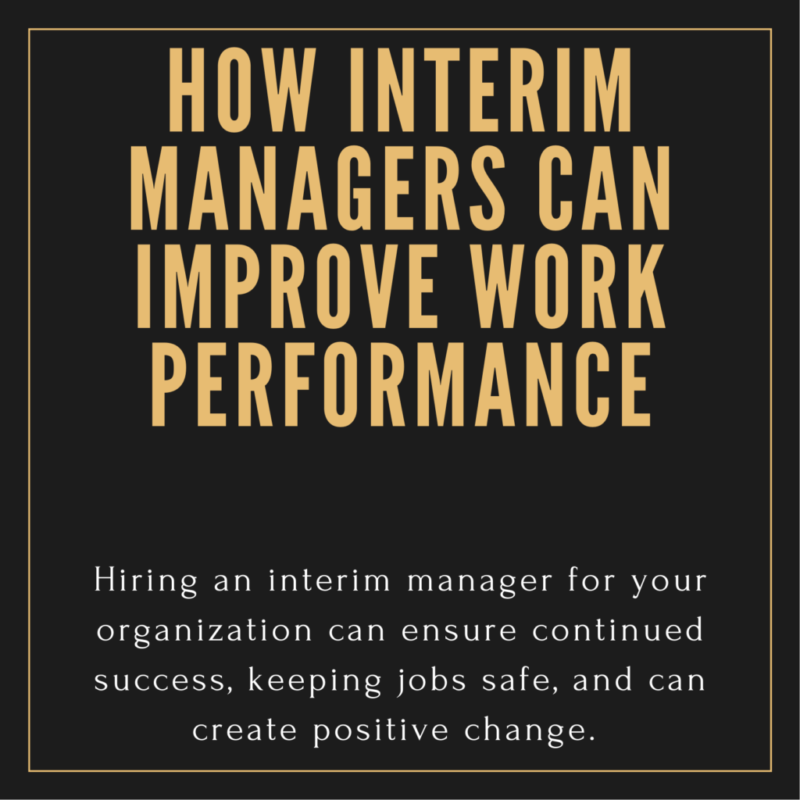 When a company needs a resource or a certain type of leader during a project, or if a vacancy occurs, an interim manager can be an important lifeline. Interim managers are experienced leaders that have proven to provide cost-effective bespoke solutions. Because the interim manager is engaged for a brief period of time, and usually on very short notice, it is imperative that an organization is careful about choosing an interim manager with the right background.
The key behind almost all interim assignments is change. The assignment must have a clear goal, and the manager needs to be able to lead and motivate, since most assignments require work on both a strategic and operational level. While a management consultant analyzes, gives advice, and makes recommendations, an interim manager does even more. He or she also implements the recommendations since they are a leading member of the team and organization.
One of the many benefits of hiring an interim manager is that their schedules are flexible, so they can easily fit a company's current and ongoing needs. An unexpected vacancy could mean that an interim manager works at the company for only a few months. However, if that company sees just how effective that interim manager is, and they want to continue to increase growth, the manager could agree to an extension, sometimes for years.
A few real-world examples of typical assignments within interim management would be an interim CFO or CEO. For instance, if a CFO has left a company, an interim CFO can review processes and structures while the search for a new CFO occurs. Another example is if a subsidiary is performing poorly, and it isn't known where the problem lies. If the current CEO is not functioning, an interim CEO can analyze the business and provide information to management and the board so that an effective turnaround can take place.
In addition to positions at the C-suite level, interim managers can exist elsewhere. A Forbes review of the European market showed that interim manager positions consisted of:
In terms of the level interim managers served at:

21% were temporary CEOs or equivalent

29% held other C-suite responsibilities

26% were department or project leads
If a complex project needs to be implemented and the current project manager lacks the skills, an interim PMO who has done that work before and has knowledge in the industry can be effective. An interim manager can also be used in Operations and Human Resources, and can also take on a Business Controller role.
Another example lies in the media and entertainment industry. The industry has gone through rapid change and transformation, and because of consolidation, many teams have seen a decrease in their staff numbers. Hiring freezes have occurred until mergers or acquisitions have been completed, and thus recruiting has been made more difficult. This, combined with the speeding up of production timelines and product releases, has made companies fall under pressure to not fall behind competition. An interim executive can step into these difficult situations, and fill the gaps left behind during this period of transformation.
Ultimately, hiring an interim manager for your organization can ensure continued success, keeping jobs safe, and can likely create positive change. By bringing in a fresh perspective and being available virtually right away, an interim manager can provide an objective view on what path is best for a business, and can be completely transparent without being seen as a potential threat to incumbent management teams. As an interim manager's future opportunities depend significantly on referrals and a successful track record of delivery, they are focused on providing their clients with a substantial return on investment. If your company has ran into issues, the cost of failure to deliver change can far outweigh the cost of hiring an interim manager.
About the Authors
Arthur Mansourian has a 12-year track record as both a management consultant and investment banker, advising clients on valuation, capital markets, structured financing, mergers, acquisitions and divestitures and general corporate strategy.
Mr. Mansourian served as Vice President while at NMS Capital Advisors, when the company achieved cumulative sales growth of over 5,100% with annual compounded sales growth in excess of 120% from 2012 to 2017.
Aykut Cakir has worked for major Fortune 500 companies such as Procter & Gamble, Roche Pharma Group, and John Deere. He has 28 years of experience in Operational Finance, Accounting and in General Management with international business experience including in the USA, Europe, Middle East and Turkey.
Aykut holds a Bachelor's degrees in Finance and Economics from the University of North Carolina. He also teaches, Financial Analysis, Project Management, and Decision-Making classes part-time at the Beykent University. Lastly, he's published an internationally accredited article on "Financial Perspective on cost of Palliative Care."
Summary
Article Name
How Interim Managers Can Improve Work Performance
Description
Hiring an interim manager for your organization can ensure continued success, keep jobs safe, and can create positive change.
Author
Arthur Mansourian and Aykut Cakir
Publisher Name
Publisher Logo