Digital Transformation of Government Entities | NMS Consulting
Government Entity Modernization
Companies and employees have benefited from transformation in the private sector, but government entities continue to lag behind.
Governments all around the world are trying to automate as many processes as possible and feasible. While feasibility is less of a concern, sometimes governments are just not visionary enough to do a good feasibility analysis, and in some cases such an analysis is not even possible. These processes range from management to administration and from administration to actual labor, and each entity has different circumstances and scenarios that must be considered.
The Government vs The Private Sector
According to a Granicus survey of 115 government leaders, more than 50% believed their organization was not keeping up with the private sector in its adoption and implementation of modern technologies. Also in the same survey, around 1/3rd were reported to have believed that the government will never catch up with the private sector in terms of technology.
The major reasons why many people believe that to be the case  is because of the complications and delays when dealing with bureaucracy and budget constraints. The Government has made many efforts to automate processes and to overcome the obstacles they face. However, it is much more difficult for governments to digitize than it is for the private sector.  Government entities have to deal with various sets of data, and then have to make sure that privacy and security of the citizens is in no way exploited. It is true that the private sector also has to be careful when it comes to cybersecurity and data privacy, but they are not held to the same level of expectations as government entities are. For example, a company in the private sector has to make sure there are preventive measures in place, but if an issue those arise, a private company is not as likely to face severe consequences, whereas a government entity is.
Secondly, private sector companies mainly have profit in mind which makes decision making simpler with little politics and more unity of interests at play. This is why bureaucracy is often blamed for the government lagging behind the private sector in transformation and related developments. Another concern with government entities and transformation is that these entities are not able to let go of government employees as easily as a private company can let go of their employees. The question that arises in government entities is "What will happen to all the people who will lose their jobs as a result of something being automated?"
How Can the Government Deal with Consequent Unemployment?
In our opinion, if automation stole jobs permanently, there would have been more unemployment and poverty than ever before. However, this is of course not the case. The jobs automation takes away are lost but are replaced by new more advanced positions that also tend to provide a higher salary for the employee. A classic example of this is when the steam engine was used for trains. It initially resulted in taking jobs away from people who used to take goods from one place to another on foot. However, it created new jobs for people who knew how to engineer steam engines, operate trains, maintain them and repair them.
Therefore, it is important that government entities receive proper consulting on transformation and learn to think of automation as an upgrade.
What the Government Needs to Successfully Transform
Government entities need to consider the following examples as ways of successfully transforming:
Ensure strong and secure networks where data is safe.

Impart technical knowledge.

Invest into Cyber Security.

Re-evaluate Budget and Procurement

Attain a clear understanding of opportunities and phase initiatives.

Collaborate with other Governments in IT

Invest in better bandwidth

Train people to be technology literate

Invest in people's education so they are ready for the jobs of tomorrow
How NMS Can Help
With the continuing evolution of new technological and digital innovations, the effective use of technology is critical to the success of nearly every business.  The digital revolution continues to expand at an extraordinary pace and goes far beyond simple e-commerce in the form of entirely new business models and industrial norms. With robotics and the Internet of Things working their way more and more into the mainstream every day, organizations need to evaluate how they are impacted.
To avoid being left behind in this digital world, and to capitalize on digital opportunities, organizations must leverage knowledge to take the right steps forward.  At NMS, we guide businesses in all things digital including transformation, strategy, customer experience, evaluation, and production.
We guide you on your digital path by:
Developing a strategy and transformation roadmap

Analyzing how digital business models may differ from traditional norms in your industry

Reviewing economic factors and identifying strategic priorities

Compiling data and viewing it through the lens of your organization's objectives and risk profiles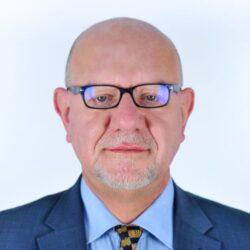 Aykut Cakir, Managing Director, Partner and Head of Turkey, has a demonstrated history in Negotiations, Business Planning, Business Development and as a Finance Director for gases & energy, pharmaceuticals, retail, FMCG, and automotive industries. Mr. Cakir has worked for major Fortune 500 companies such as Procter & Gamble, Roche Pharma Group, John Deere, and Linde Gas. He has twenty-eight years of experience in Operational Finance, Accounting and in General Management, with international business experience including in the USA, Europe, Middle East and Turkey.  Mr. Cakir holds a Bachelors degree in Finance and Economics from the University of North Carolina.