How Consultants Can Help During the COVID-19 Crisis
COVID-19's impact has reached every corner of the globe – and it is just getting started
As COVID-19 continues to disrupt businesses and bring the world economy to a halt, many businesses are looking for solutions and help.  As consultants, we strive to solve problems and find answers for businesses, and this crisis has created an impact for clients in virtually every industry.  Unfortunately, this impact is likely going to last, and it may be a long time before economies can return to the pre-COVID level of production and output.  As seen in the figure below, the impact seen in each industry is massive and lengthy: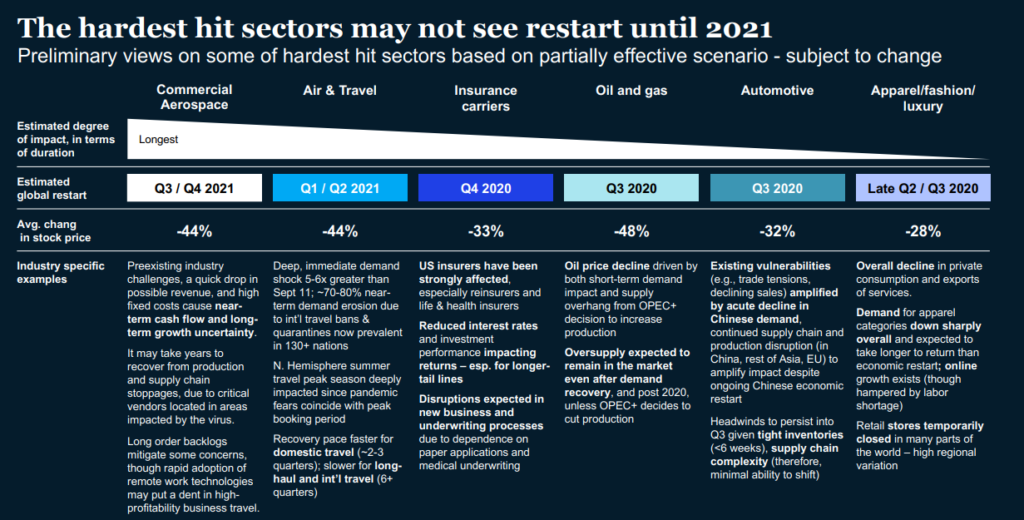 Source: McKinsey Global Institute
To help navigate this crisis, we provide some specific examples of how businesses can implement solutions that will help them get through this tough time.
Customer Service and Management
Every business needs to ensure their customers are all getting the help they seek.  It is crucial for a company to establish a customer service command center to provide a quick way for a customer to get a hold of a representative who can respond to questions, and to gather and analyze the information from customers and clients to effectively combat future problems.  More than ever, your business needs to show it is run by human beings that care and know the customer is the top priority.  Examples of how to better serve customers and clients include providing online chat services, waiving fees in certain circumstances, and moving staff from production or other business areas to customer service. 
Proactive Solutions
As much as companies do not want to lay people off, cancel expansion plans, or cut back on marketing expenses, consultants advise clients on what "fat" they can cut now voluntarily, before a global slowdown forces their hand.  Companies need to do a thorough analysis of every level of operation and every expenditure.  This review needs to be done through the lens of this crisis, and with the time frame for recovery in mind.  Implementing the required solutions will not be easy, but they are vital to stemming the crisis' impact where possible. 
Supply Chain and Operational Diversification
Whether disruptions surface from travel bans, border closures, or employee illness, companies need to plan for anything.  Many companies have become accustomed to working with the same service providers and partners for years, and have become complacent in their diversification efforts.  Companies will experience the effects of border closures, travel bans, and other slowdowns in different ways.  It is important for companies to diversify and implement backup solutions during this time, as a major issue can arise at any given moment.  Companies should find 2-3 alternative choices of service providers and partners for each offering, product, or service.  These alternatives may not be the fastest or least expensive choices, but should be strongly considered if they are offering a quality product or service that is at par with your customer's expectations.
Marketing and Brand Recognition
With everyone working from home and behind their computers during this crisis, an efficient digital marketing campaign is paramount.  Marketing communications require nimble yet effective data-driven decisions.  Brand loyalty and awareness is harnessed through strategic brand messaging that is aligned with consumer's needs.  Quite often, identifying how to best position your business and maintain client engagement across a multitude of platforms is a monumental challenge, but strategic communications consultants can help.  Companies need to place more attention and focus on their social media and websites, ensuring that anyone who views a post or a webpage can quickly understand why they should consider your offering, and what makes you unique. 
By leveraging our ability to help clients solve their most complex problems.  From change management, to mergers and acquisitions, to turnaround and restructuring, we are differentiated by our capability to view challenges from a real-world perspective based on our deep understanding of financial markets.  Delivering this kind of value empowers clients with actionable strategies to lead in the marketplace where they operate, and where they want to be after the crisis is over.  More than ever, businesses need manageable solutions to mitigate risk, create cost efficiencies, and remain profitable during this pandemic.  We are here to help. 
About the Author
Arthur Mansourian has a 12-year track record as both a management consultant and investment banker, advising clients on valuation, capital markets, structured financing, mergers, acquisitions and divestitures and general corporate strategy.  Mr. Mansourian served as Vice President while at NMS Capital Advisors, when the company achieved cumulative sales growth of over 5,100% with annual compounded sales growth in excess of 120% from 2012 to 2017. With over $5 billion in completed transactions, the investment bank consistently ranked among the Top 10 investment banks by the Los Angeles Business Journal.  Mr. Mansourian holds an MBA from USC's Marshall School of Business and a Bachelor's Degree from UCLA, and the CIPP/US certificate from IAPP.